Product
PAID
BONUS 1-on-1 Consultation
FREE
BONUS Net Equity Negotiation Tool
FREE
BONUS Escape the 9-5... Online Training—

Access Now Below

FREE
Live Training Access Ends In
48
Hours
00
Minutes
00
Seconds
How to Profit in Real Estate During a Recession
Action Plan for a HUGE Investing Opportunity
Free Training with Master Real Estate Investor, Marko Rubel
DISCLAIMER: We don't believe in get rich programs – only in hard work, providing value and serving others. Our programs are intended to help you buy and sell houses using our unique method. As stipulated by law, we can not and do not make any guarantees about your ability to get results or earn any money with our ideas, information, tools or strategies. We don't know you and, besides, your results in life are up to you. Agreed? We just want to help by giving great content, direction and strategies that move you forward. Any examples depicting income or earnings shown in the above webcast video should not be interpreted as typical, expected, or normal for an average student – all numbers are illustrative only. Since it is impossible for us to track all of our students' results, we cannot provide a typical result. You should assume that the average person makes little to no money or could lose money, as there is work and risk associated with investing in real estate. Nothing on this page or in this webcast video is a promise or guarantee of results or future earnings, and we do not offer any legal, financial, tax or other professional advice.
Anyway, our terms, privacy policy and earning disclaimer can be accessed via the link at the bottom of this page. It's all the regular legal mumbo jumbo but we feel transparency is important and we hold ourselves (and you) to a high standard of integrity. Thanks for stopping by and we hope you take your future seriously!
Just for a Moment, Imagine This…
You're finally breaking into the real estate game eventhough you don't have credit, money or prior experience.
You make your annual salary in a matter of months focusing on niche deals less than 1% of investors know about.
You're profiting headache-free. You never have to deal with the hassles of rehabbing, tenants or banks.
WATCH MASTER CLASS TO ACCESS YOUR BONUSES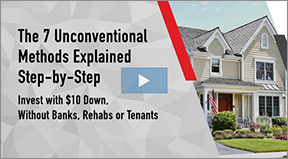 BONUS #1 Limited-Time Training
Watch the master class above to learn the 7 unconventional methods to invest in real estate without banks, rehabs or tenants.

BONUS #2 Net Equity Negotiation Tool
Helps you educate the sellers while securing a killer deal with higher returns. Plus, it could save you from making a mistake that could cost you tens of thousands.

BONUS #3 1-on-1 Consultation
Want your questions answered? Need a customized startup plan?
Start with this.

Marko Rubel is a master real estate investor, bestselling author and self-made millionaire.
After two decades buying and selling hundreds of houses, he created the Unlimited Funding® Program to help investors to invest in real estate without banks or using their credit.
He is considered one of America's leading real estate experts—training others to be successful exactly has he's done it.